The Liberty Through Strength Act II
On Wednesday, I introduced the Liberty Through Strength Act II, which would stop the Obama administration from deleting all records of terrorist communications and make permanent congressional authorizations for counterterrorism tools that are vital to tracking and stopping attacks on Americans.
Last Sunday our constitutional, legal, and proven NSA collection architecture shifted to an untested, less effective system in the dead of the night. This shift came at a time when our enemies are emboldened and we face an elevated national security threat. Worse, President Obama has decided that he will press delete on the metadata records we currently have, making it impossible to identify terrorist connections among these data that would reveal ISIS and Al Qaeda sleeper cells.
The gaps in our intelligence system created by the USA FREEDOM Act leave us less safe and provide us with fewer tools to fight our enemies. No matter what President Obama may think, it's clear ISIS is not contained and that these gaps must be addressed before they attack us again. The Liberty Through Strength Act II ensures our intelligence community has the tools they need keep us safe.
Transparency on the Clean Line Project
Earlier this week I joined Senator John Boozman in placing a hold on the confirmation vote of President Obama's nominee for the Department of Energy's (DOE) Under Secretary for Management and Performance, Victoria Marie Beacher Wassmer, because of the department's insufficient response to the Arkansas Congressional Delegation's letter related to the potential partnership with the Clean Line project.
We are deeply concerned by the financial arrangements between the Department and applicants like Clean Line. The Department has still not explained how it avoids conflicts of interest when applicants like Clean Line pay the salaries and expenses associated with pending applications. Before the Federal Government exercises eminent domain over Arkansans' private property, Arkansans at least deserve a fair process without conflicts of interest. We want to facilitate the consideration of this nomination by the full Senate as quickly as possible, but first we need adequate and complete responses to the questions we've asked. We hope to meet with the Secretary soon and we hope this matter can be resolved quickly.
Strengthening our Counterterrorism Tools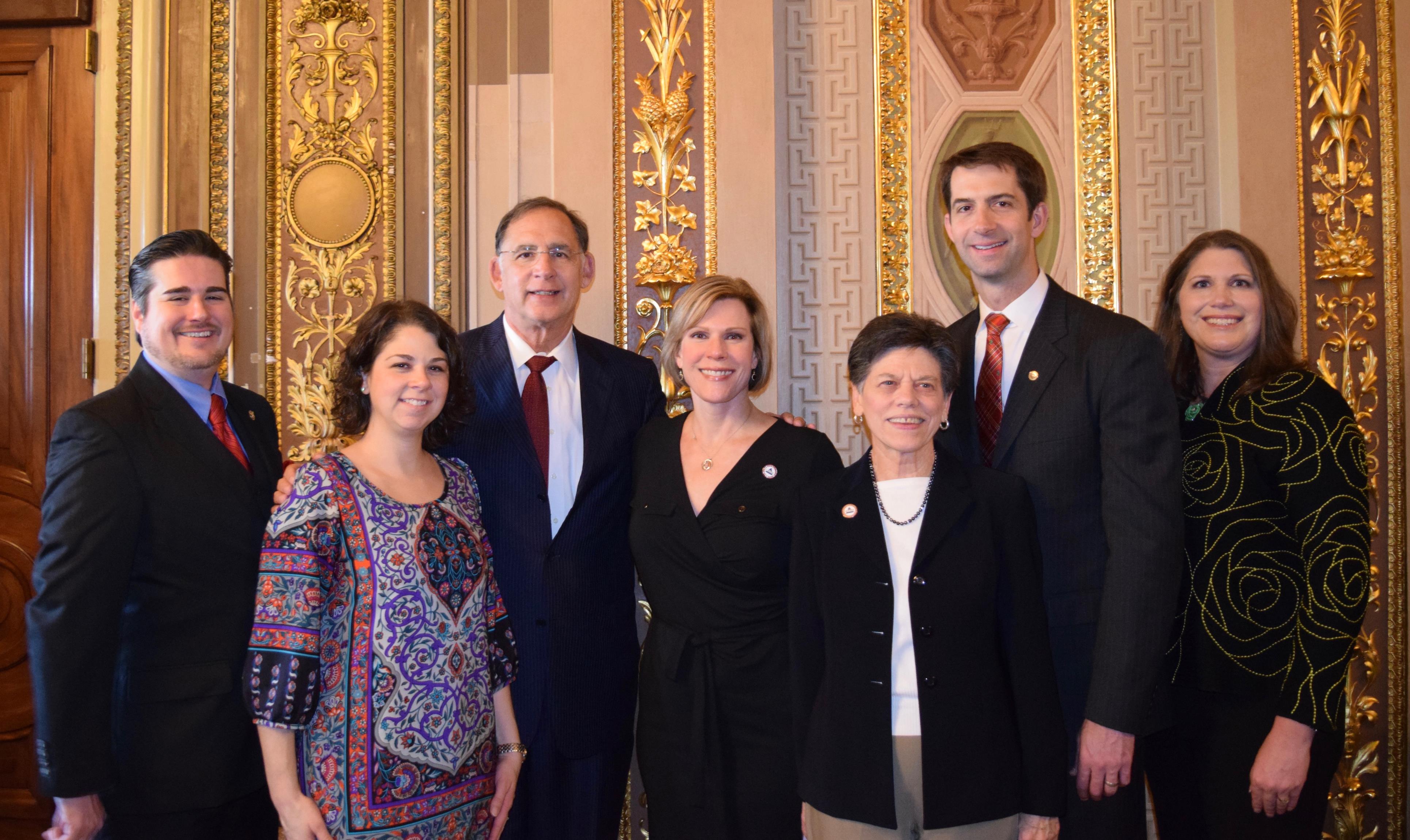 Arkansas Senators John Boozman and
Tom Cotton with members of NAIFA
In the wake of the brutal terrorist attacks around the world, I joined Senator Angus King (I-Maine) in introducing legislation that would ensure that U.S. counterterrorism officials have the necessary tools to track suspected terrorists and prevent terrorist attacks in the United States.
Our Intelligence Community and Law Enforcement professionals are skilled at connecting the dots to thwart and respond to terrorist attacks. But if there are no dots to connect, those skills won't do us any good. The King-Cotton legislation will help preserve metadata currently stored by phone carriers by forcing them to notify the federal government if they change the amount of time they retain billing records to less than 18 months. This will give Congress and the Executive Branch an opportunity to respond before those dots are lost forever.
Repealing Obamacare
Earlier this week, the Senate voted to repeal Obamacare. Obamacare remains a fundamentally flawed law that is hurting thousands of Arkansans with higher premiums and copays, higher taxes, and lost jobs. President Obama promised that if Americans liked their plans and their doctors they could keep them, but that's not been the case. Obamacare's Medicare reimbursement cuts have jeopardized the program. Today, one in five primary care doctors are no longer accepting new Medicare patients. Obamacare is a complete failure.
I was pleased the final bill passed by the Senate included a provision to defund Planned Parenthood—an organization whose proven itself unworthy of government support. This vote was another important blow to Obamacare, but the fight isn't over. Rest assured, I am committed to repealing Obamacare and replacing it with a better system that truly makes healthcare more affordable and more accessible.
Senator Tom Cotton
---
Tags:
Senator, Tom Cotton, news letter, Repealing Obamacare, Strengthening Counterterrorism Tools, Transparency on the Clean Line Project, The Liberty Through Strength Act II
To share or post to your site, click on "Post Link". This site is an Outreach of the ARRA News Service.