The massive breach of Office of Personnel Management (OPM) systems may have been the most devastating cyber-attack in our nation's history – information on up to 18 million federal employees compromised. The OPM incident follows several across government and is only the latest example of the federal government's inability to protect itself from cybersecurity threats. Last year, there were 67,168 cyber incidents targeting federal agencies – an increase of 1,100 percent since 2006.
The government spends approximately $82 billion annually on information technology. Given the cost of these projects and their impact on our economy and national security, I organized a hearing of the Appropriations Financial Services and General Government Subcommittee to conduct oversight of this growing problem.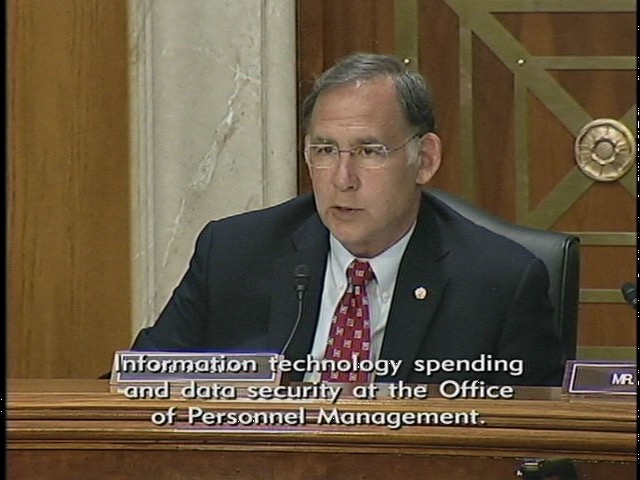 During the hearing I heard testimony from OPM director Katherine Archuleta, who passed the buck when it came to accepting responsibility, and refused to reveal how many Americans may have been compromised by the breach. There was no accountability or urgency to prevent another attack from happening in the future.
As I told Neil Cavuto following the hearing, the
government is doing a "sloppy, shoddy job" of protecting data.
We need to do more to prevent cyberattacks and have timely responses ready when breaches such as the one at OPM occur. The Senate Intelligence Committee has approved bipartisan legislation that aims to thwart attacks and modernize our defenses. I voted to move this bill forward this month, but Senate Democrats blocked our efforts. We all need to be committed to protecting our country against cyberattacks. Bringing this bill to the floor will help prevent future breaches of government data. I will continue to work with the Majority Leader to bring this bill up for a vote in the Senate.
---
Tags:
Arkansas, U.S. Senator, John Boozman, protecting Government Data
To share or post to your site, click on "Post Link". This site is an Outreach of the ARRA News Service.